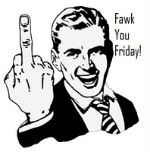 So it's Fawk You Friday again! Can you believe it? Well my lovelies, head on over to
Boobies, Babies and a Blog
and link up. Have some stinky cheese with your whine and let it all hang oot!
My Fuck You's this week:
Fuck you to my car's clutch cable that snapped in the middle of a busy traffic circle during rush-hour at 4pm in the afternoon just about 500m from my daughter's school. All those fuckers peeping and gesturing for me to get out the way. Where the fuck must I go when my car doesn't have a clutch and I'm on an incline. Do I crawl up my own arsehole? Piss off!
However, My Knight-In-Shining-Boerewors came to my rescue with tow car and tow rope. Smart man! I was in tears on the way home because I didn't know how to keep the rope tight without my breaks smelling like they were going to explode or trying to view all this through streaming tears.
Story not over. It happened again yesterday! It snapped off mid-busy intersection and my Knight-In-Shining-Boerewors had to come to my rescue again. He deserves a medal for coming to the rescue again, even though his wife was screaming down the phone at him. I'm deeply sorry for taking out my frustrations on you! I would rather evacuate my bowels in a public place than go through that again.
Fuck You to my stupid scale. It hasn't budged since I started gym two weeks ago. I thought I'd have lost at least 1 fekkin kilogram by now. Urgh! Keep plodding along on that Orbitrek machine, gurl!
Head on over to G-Man and sign up for Flash Fiction Friday and write a complete story in 55 words. Easy Peasy Lemon Squeezy.
Caffeine and Phenylalanine loaded
4 kilojoules of yumminess
0 grams of guilt-free fat
40mg of Sodium that's 2% of your GDA
GDA – Guideline Daily Amount
Recyclable Plastic Bottle
Coke Lite does it for me!
Go Link up and enjoy all the Heels

I wish someone in the UK could send me a pair of Irregular Choice shoozies. I'm a SA Size 4 if anyone wants to surprise me for my birthday in June.
I couldn't help but throw in a handbag because its so damn cute from Irregular Choice for GBP79.99. Boy, do they have the most adorable accessories or what?.
Have a BRILLIANT weekend and don't do anything I would do. Bazinga!
Share
|